Tech boost for Edinburgh College students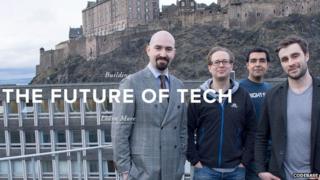 A fast-growing Edinburgh centre to help technology companies grow is to start working with college students on their business ideas.
CodeBase is also looking to expand to Aberdeen and Glasgow from next year.
The incubator of newly-started companies already has 40 enterprises in its central Edinburgh building.
It will now provide space for students at Edinburgh College to work with firms' chief executives and founders so they can develop their business plans.
It is also planning to provide online teaching materials to support the project.
'Important enabler'
The idea for CodeSpace draws on American experience of looking beyond universities for people with digital skills.
Jamie Coleman, founder and chief executive, said: "Digital literacy is one of the most important enablers of a successful modern economy, so it's crucial that we open up digital learning to as many of Scotland's young and interested people as possible.
"We live in such an exciting time for start-ups against a backdrop of diminishing barriers to entry and you've only got to think of companies like Skyscanner and FanDuel to see what Scotland can produce.
"However, we have got to combine our raw start-up talent with people with business acumen who have been there and done it.
"That's when we will start to see more really exciting results."
Head start
Mandy Exley, principal of Edinburgh College, said the project would give students the freedom and advice to help bring their ideas to life.
She added: "Scotland has 11,000 digital job vacancies and this is one of the government's key economic growth areas, so giving this next generation of leading tech entrepreneurs a head start while they're at college is really important."
Before moving to Argyle House in central Edinburgh earlier this year, the companies at CodeBase were based near Edinburgh University in a building and business called Tech Cube.