Weir Group to buy Shanghai-based Trio for £138m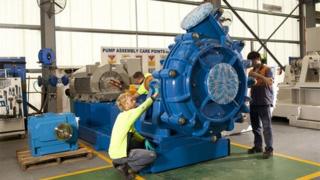 Engineering giant Weir Group has announced it is buying Chinese-American mining services firm Trio in a deal worth $220m (£138m).
Trio is based in Shanghai but also has facilities in the US.
The company, which manufactures crushing and separation equipment for the mining and aggregates markets, employs 700 people in China and the US.
Glasgow-based Weir said the acquisition would be funded from existing bank facilities.
In 2014, Trio is expected to generate revenues of $120m, with operating profit margins broadly in line with Weir's minerals division.
Global player
Weir is a global player in the provision of pumping equipment to the mining mill circuit, which separates rock from ore.
The company said the deal would enable it to provide "a more complete product and service offering" to existing mining customers.
Trio is being acquired from majority owner Navis Capital and the company's management team.
Trio's three founders have agreed to remain with the company following the acquisition, which is expected to be completed before the end of October.
Weir Group chief executive Keith Cochrane said: "We'll use our group's unrivalled global capability to promote Trio's range of complementary products, extending our addressable market and offering our mining customers a wider range of highly engineered equipment and services.
"Trio's established manufacturing capability and its scale and presence in aggregates markets also provides a further platform for growth."
Earlier this year, Weir dropped a bid to take over Finland's Metso Corporation after the engineering firm rebuffed a second approach.