Economy shows signs of slowdown in Scotland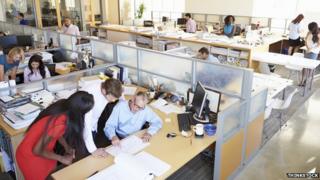 Private sector economic growth has slowed in Scotland, according to research in the latest Bank of Scotland PMI report.
It said output growth eased from the "robust" pace seen in August. The report points out growth is at its slowest rate for the past 18 months.
Job creation, however, it reported to be "steady" and employment increased.
Bank of Scotland chief economist Donald MacRae said there was the possibility of a "rebound in activity" in October.
The report found that goods production fell in September and new export orders were down for a third month in a row.
Mr MacRae said: "The private sector of the Scottish economy recorded a slowdown in the rate of growth in September, with the PMI indicating continuing growth but at a reduced rate.
"Manufacturers showed a fall in new orders while financial services saw a slowdown in the rate of growth of new business aggravated by the uncertainty created by the referendum.
"Despite this slower increase in business activity, employment increased in both the manufacturing and services sectors, indicating continuing confidence for the future and the prospect of a rebound in activity in October."
The PMI report is compiled by Markit and based on data from questionnaires sent to around 600 private manufacturing and service sector companies.
---
Douglas Fraser
BBC Scotland business and economy editor
For all the talk of constitutional uncertainty having the potential to hit investment, the long independence referendum campaign didn't appear to slow the private sector dramatically.
But then, we'll never know what would have happened without it.
After all the analysis of Scotland's economic prospects, it now looks like time to consider its place in a global context.
Two surveys published with the start of the week point to strong growth slowing, less so in employment, but notably so in manufacturing - one of the main reasons being that international context.
With global growth hitting a rocky patch, markets are getting nervy. The International Monetary Fund last week set out gloomy prospects of mediocre global growth and a significant risk of another eurozone recession.
The market that could affect the Scottish economy most is in Brent crude oil. Petrol prices are falling, which feels good for drivers. But the price of the raw material has been falling rather fast in recent weeks, from $115 per barrel towards the $80 region at which drilling in UK waters makes a lot less financial sense.
---
Another survey, the Output Index compiled by business advisers BDO, fell from 103.8 in August to 103.3 in September.
The authors said this modest drop masks a sharp fall of 1.6 points in the BDO Output sub-index for manufacturers, which fell from 113.2 to 111.6.
Martin Gill of BDO LLP in Scotland commented: "With global conditions becoming increasingly challenging, it was only a matter of time before the stellar increases in economic growth recorded earlier this year came to an end.
"Given their reliance on exports, manufacturers have borne the brunt of weakening global demand but the effects of stuttering worldwide growth are obvious throughout the economy."