Offshore firms eye George Osborne's Autumn Statement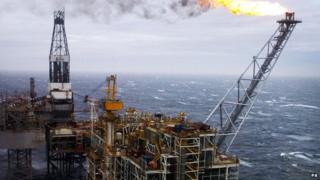 The chancellor's Autumn Statement could play a key role in seeing an upturn in investment in the oil and gas industry, it has been claimed.
A report by business advisory firm Deloitte suggested firms could be delaying key decisions until the future of the North Sea becomes clearer.
This, it is said, could be after George Osborne's speech in December.
There were four offshore deals announced in the third quarter of this year, down on 14 at this time in 2013.
Oil prices saw sharp falls on Friday, with Brent crude hitting its lowest level for nearly four years.
Derek Henderson, senior partner in Deloitte's Aberdeen office, said the drop in deals may be down to North Sea operators continuing to wait for further clarity.
'Cut costs'
He said: "The industry continues to wait and see how the future of the North Sea will take shape.
"All eyes will be on the Chancellor's Autumn Statement."
Meanwhile, Aberdeen and Grampian Chamber of Commerce has urged the chancellor to cut the tax rate for the oil and gas sector in his Autumn Statement.
James Bream, research and policy director, said: "In a mature basin, the industry must cut costs, innovate and increase collaboration, but it cannot work in isolation of government and a consistent, fair and stable tax regime is crucial.
"Companies are not convinced they can get a fair return on their investment and in a global industry, it is very simple for them to move their capital elsewhere."