Five stores a week closed in Scotland in first half of 2014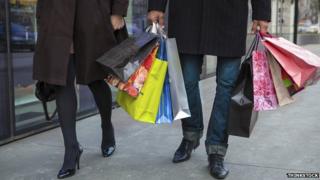 Five stores a week closed across some of Scotland's largest towns and cities in the first half of this year, a study has found.
A total of 140 stores brought down the shutters with only 133 new ones opening, a net reduction of seven.
Aberdeen, Glasgow, Paisley and Perth, however, reported a net increase over the six months.
Scotland's high streets also performed relatively well compared to other parts of the UK.
The PwC research, compiled by Local Data Company, looked at 500 town centres across the UK.
Overall, 3,003 outlets closed in a six-month period compared to 2,597 openings, a net reduction of 406 shops.
In Scotland, Aberdeen and Perth both recorded a net increase of three stores with Glasgow and Paisley reporting a net uplift of one store.
In contrast, Dundee saw a net drop of seven stores while Ayr had a net drop of five and Edinburgh saw a net loss of two stores.
But the research also suggested Scotland's main streets delivered one of the strongest performances compared to other parts of the UK. Only London and the east on England saw positive growth.
| Town/city | Number of stores, June 2014 | Net increase/decrease |
| --- | --- | --- |
| Ayr | 174 | -5 |
| Aberdeen | 451 | +3 |
| Dundee | 239 | -7 |
| Edinburgh (incl Leith) | 1,009 | -2 |
| Falkirk | 136 | -1 |
| Glasgow | 949 | +1 |
| Paisley | 128 | +1 |
| Perth | 159 | +3 |
The worst-hit areas south of the border were the East Midlands with a net loss of 83 stores; West Midlands with drop of 67 stores; England's North West which lost 81 stores; and the South East reporting a net drop of 69 stores.
In Scotland, coffee shops, banks, estate agents, sports shops and convenience stores were among those opening the most branches during the first half of 2014.
The hardest hit retailers included clothing stores, mobile phone shops, pawnbrokers, jewellers and building societies.
Martin Cowie, private business leader at PwC in Scotland, said: "Once again, we are seeing a growth in charity shops, coffee houses and discount stores.
"Smaller supermarket convenience stores are also on the rise as major chains shift their focus from larger out-of-town retail units.
"It's also good to see banks re-opening branches as 'challenger' banks grow and there is a new emphasis on retail offering by some of the established banks.
"The fallers reflect a spectrum of cases such as Albemarle & Bond where the estate had to be reduced to restore viability through to Blockbuster where the chain's raison d'etre has become obsolete due to technology, which also continues to impact retail service businesses such as travel agents.
"The fashion sector is also on the back foot, due to too many similar formats and online trends."
PwC said the figures suggested digital channels with new mobile technologies and smartphone apps were enjoying the strongest growth.
"It might not be what customers truly want to see, but it's becoming increasingly likely that the high streets of the future will be based around immediate consumption of food, goods and services or distress or convenience purchases," Mr Cowie said.