Housebuilder Miller Homes shelves flotation plan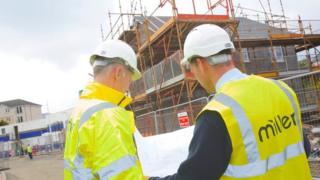 Miller Homes has shelved plans to float on the London Stock Exchange, blaming market volatility.
Last week Miller announced its intention to raise about £140m by selling off at least 40% of the company.
Since then, almost £100bn has been wiped off the value of leading shares and on Thursday the FTSE 100 fell to its lowest level since December.
Miller had planned to use the cash to reduce debt and increase flexibility.
In a statement, the Edinburgh-based company said: "In light of the recent financial markets volatility, the shareholders of Miller Group have elected not to proceed at this time with a public offering of Miller Homes".
Sharp rise
Miller's major shareholders include GSO Partners, which is the credit arm of private equity giant Blackstone Group, Royal Bank of Scotland and a subsidiary of Lloyds Banking Group.
The company recently announced a sharp rise in house completions for the year to the end of June.
It was 28.2% higher at 855 units, driven in part by a strong opening order book.
Miller Homes focuses its operations in central southern England, the Midlands, the north of England and central Scotland.
Its parent company, Miller Group, was founded in Edinburgh in 1934 and initially focused on housebuilding in and around Edinburgh before expanding into England in the late 1940s.