Scottish borrowing costs assessed by Oxford Economics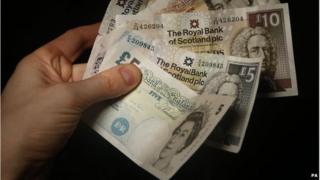 Borrowing by the Scottish government could be expected to cost one percentage point more than UK debt, according to an economic consultancy.
Oxford Economics has assessed the likely range that Scotland might have to pay if Holyrood is given significant new borrowing powers.
It concluded that, in normal times, that might amount to £10m for every £1bn borrowed.
But it warns that there could be spikes caused by external factors.
These could include a fiscal crisis when bond markets freeze up, as they did earlier in the eurozone crisis.
The extra borrowing cost is lower than the expected premium if Scotland were to be independent.
But Oxford Economics, a private consultancy, has published analysis saying it would be higher than UK borrowing because there is no borrowing track record and the market for smaller country bonds is less liquid.
It also said that if the prospect of Scottish independence is seen as strengthening once more, there could be more risk associated with Holyrood borrowing.
The Scotland Act, passed in 2012, allows for additional borrowing powers, up to £2.7bn.
But the negotiations currently under way on further powers for Holyrood are thought likely to see that maximum raised significantly.
While Oxford Economics sees a one percentage point premium to be affordable, its research briefing takes lessons from experience in Spain and Canada - where provinces have their own borrowing powers.
In Canada, it says that uncertainty over Quebec's constitutional position could be a reason why it pays more to borrow than provinces with similar credit ratings.
In Spain, it points to sharp increases in borrowing costs during the eurozone crisis, up to eight percentage points over the national government's rate. That was partly because it was not clear that the Madrid government could bail out the most troubled regions such as Valencia and Murcia.
According to Oxford Economics: "The lesson is that fiscal rectitude is crucial. In normal times, the borrowing premium is manageable. In bad times Scotland could be frozen out of financial markets, and be compelled to turn to the IMF".