Ferguson shipyard secures ferry contract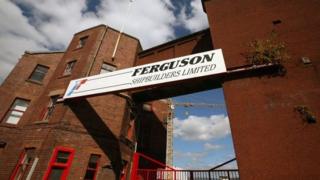 The Ferguson shipyard in Port Glasgow has won its first ferry building contract since being rescued from closure.
Clyde Blowers Capital - owned by the billionaire Jim McColl - bought the yard earlier this month after it went into administration.
It has now secured a £12m contract from the Scottish government to build a third hybrid ferry for CalMac.
More details of the deal will be released later this week.
The yard has previously built two other hybrid ferries - the MV Hallaig and MV Lochinvar - for CalMac.
The new vessel, which will be able to accommodate 150 passengers and 23 cars or two HGVs, is expected to be launched in the spring of 2016, before entering service in the autumn of the same year.
It will use a low carbon hybrid system that combines traditional diesel power with electric battery power and will lead to a reduction in fossil fuel consumption and carbon emissions.
'Vote of confidence'
Confirming the contract, Mr McColl said: "This is the first major order for Ferguson Marine Engineering and is fantastic news for the business, its workforce and for Port Glasgow. It is the third vessel to be built in a four-vessel programme.
"By creating jobs for the former Ferguson's workers and securing the site at Port Glasgow, we have ensured that the experience in the workforce which built the last two hybrid ferries will be used to build this vessel."
Deputy First Minister Nicola Sturgeon said the announcement was a "real vote of confidence" in shipbuilding on the Clyde and a significant step forward for Ferguson.
She added: "This investment not only provides support to the shipbuilding industry on the Clyde, but also underlines our commitment to investing in cutting-edge technology to make our ferries sustainable and reliable.
"This will be the third hybrid ferry for the CalMac fleet, showing that Scotland remains at the forefront of ferry design and innovation. This new vessel will be fuel efficient and have lower maintenance costs, whilst ensuring a quality service for passengers."
After concluding the deal to buy the shipyard, Mr McColl said he aimed to invest £8m and employ up to 300 staff servicing the oil and gas, marine and renewables sectors.
He also said he hoped to have a workforce of up to 80 people, including all those who had been made redundant when the company went into administration, by 10 November.