New internet domain .scot goes on general release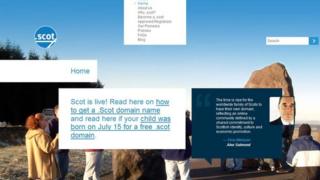 Scotland's new top-level domain name .scot has gone on general release for the first time.
About 50 sites run by "launch pioneers" took up the domain when it first became available in July.
Now individuals and organisations will be able to choose a .scot web or email address.
The domain is among a number of new ones that are becoming available this year, such as .wales, .london, .berlin and .NYC.
It was launched after not-for-profit company Dot Scot Registry agreed terms with international regulators Icann to operate the new domain.
'Huge interest'
Dot Scot Registry director Gavin McCutcheon said there had been "huge interest" in .scot since it first went public in July.
"We've seen strong interest from many sectors but it's particularly pleasing to see the international digital giants like Facebook, Linkedin and Instagram get on board," he said.
"But it's not just about the businesses - international and local - it's about individuals and I'm hearing lots of individuals are getting involved which ties in with the whole ethos of the web being for everyone."
Launch pioneers included the Scottish government, referendum campaigners Yes Scotland and Better Together, WWF Scotland, NHS Scotland and Scouts Scotland.
Scotland's Finance Secretary John Swinney said: "With .scot domains now generally available, people at home and abroad have a new opportunity to express their Scottish identity or affinity online.
"I also look forward to www.gov.scot being adopted in the coming months as the primary web address for the Scottish government."
People can buy a .scot domain name through a list of approved registrars named on the dot scot website.
Dot Scot Registry said it expected the average price of a domain to be about £20 to £25 for a one-year registration.