Scottish referendum: Edinburgh Hotel sold for £25m following 'No' vote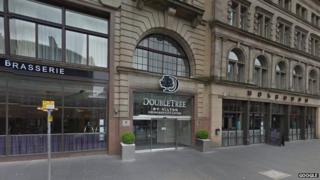 An Edinburgh hotel has been sold for £25.7m to a real estate investor who said the deal was conditional on a referendum "No" vote.
Redefine International, a real estate investment trust, bought the five storey, 138-bedroom Double Tree by Hilton hotel in Edinburgh city centre.
Chief executive Mike Watters said the deal had been "conditional" on Scotland voting to remain part of the UK.
Mr Watters insisted the decision was a matter of economics and not politics.
"The transaction was structured on a conditional basis subject to a 'No' vote in the Scottish referendum," he said.
"Now that the uncertainty surrounding this has been removed we are very pleased to have secured this opportunistic investment in the city of Edinburgh which complements our existing hotel portfolio."
Mr Watters told the BBC: "We're a public company and uncertainty is not good for investors and shareholders.
"It's got nothing to do with politics, it is simply about the economics.
"It was a prudent decision to wait for the referendum to complete."
The hotel will be let to a subsidiary of Redefine BDL Hotel Group Limited, in which Redefine International has a 25% stake.
Business views
A number of companies voiced concerns about uncertainty ahead of the referendum vote on 18 September, but others supported a "Yes" vote or argued independence would not affect their business.
Royal Bank of Scotland confirmed it would relocate its registered headquarters to London if Scotland had voted for independence, but the bank's chief executive said there was no intention to move operations or jobs.
However, Martin Gilbert, chief executive of Aberdeen Asset Management, said an independent Scotland would be a "big success" and the country would prosper whatever the outcome of the referendum.
Satellite broadcaster BSkyB said it had no plans to change its business in Scotland, whatever the outcome of the referendum.
The founder of Barrhead Travel told his staff that a "Yes" vote in Scotland's independence referendum would be "a disaster". In a leaked memo, Bill Munro detailed what he saw as the dangers of independence.
Energy giant SSE, which is the UK's second largest energy supplier, said "a single energy market in Great Britain would be the most likely outcome in the event of a 'Yes' vote".
Meanwhile, the world's biggest investment fund manager, Blackrock, said Scottish independence would bring "major uncertainties, costs and risks".