'Record' fall in candidates for jobs, survey finds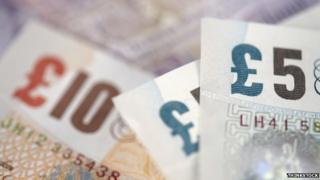 There was a record fall in the number of people available to fill permanent job vacancies in Scotland last month, according to a survey.
The Bank of Scotland's Report on Jobs also found a marked rise in people finding permanent and temporary jobs.
The survey of recruitment agencies found evidence of strong growth in starting salaries.
The report's authors said the Scottish jobs market was continuing to go "from strength to strength".
The survey indicated that growth in permanent starting salaries eased from July's survey-record high, but it remained above the UK-wide average for the second straight month.
The Bank of Scotland's Labour Market Barometer - which provides a snapshot of job market conditions - registered 67.1 in August.
This was slightly lower than July's survey-record high of 67.3, but above the equivalent UK index.
Any figure above 50 represents an improvement in market conditions.
Data north of the border showed that the fastest growth in permanent job vacancies was in the nursing/medical/care sector, followed closely by IT and computing.
Engineering and construction saw the most marked increase in temporary job openings.
Aberdeen-based consultancies posted the sharpest rates of growth in both permanent appointments and billings for temporary staff in August.
Permanent candidate availability deteriorated to the greatest extent in Glasgow, while temp candidate supply fell fastest in Dundee.
Glasgow led broad-based growth in both permanent starting salaries and hourly pay rates for temporary staff.
Bank of Scotland chief economist Donald MacRae said: "August's Barometer returned a strong reading, showing a rising number of people appointed to both permanent and temporary jobs.
"There was a record drop in people available for jobs and growing evidence of strong growth in pay, confirming the tightening of the jobs market.
"The economic recovery continues with business confidence remaining high."
Confidence 'down'
Meanwhile, a separate survey has suggested that Scottish small business confidence faltered in the last quarter and slipped below the UK average.
The Federation of Small Businesses (FSB) said its confidence index fell to +26 points in the third quarter.
The figure was still in positive territory and higher than at the same point last year.
Less than a third (32%) of respondents reported running below capacity over the last three months.
Fewer firms also reported facing rising overheads and or unaffordable finance.
FSB Scottish policy convener Andy Willox said: "Scottish small business confidence has been on a broadly upward trajectory and we need to remember that we're still in positive territory.
"But a big fall like this highlights why we keep our finger on the pulse of Scotland's small businesses and make sure our members get a fair deal.
"While Wales and some English regions saw similar dips, we need to understand if this fall is a one-off blip or marks the start of a trend."