Scottish independence: Investment chief says Scotland 'would prosper'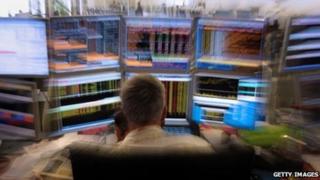 The head of leading investment group has said an independent Scotland would be a "big success".
Martin Gilbert, chief executive of Aberdeen Asset Management, said he thought Scotland would prosper whatever the outcome of the referendum.
He was quoted by the Press and Journal newspaper amid claims that a "Yes" vote would harm the economy.
Several Scottish-based financial companies have indicated they would relocate their headquarters to England.
Aberdeen Asset Management, one of the UK's leading investment groups, is officially neutral in the independence debate and has previously said it has no plans to move its headquarters from Aberdeen.
Mr Gilbert, its founder, said he had already voted by post but declined to say which way. "I think an independent Scotland would be a big success, but it is a secret ballot and I will abide by that," he said.
Mr Gilbert said Scotland was among the 20 wealthiest countries in the world, adding: "Most sensible people now accept that Scotland would be prosperous with either outcome in the current constitutional debate."
'Not a bad start'
He dismissed suggestions from the Bank of England governor Mark Carney that a currency union was incompatible with national sovereignty.
But he also said sterlingisation - in which an independent Scotland kept the pound without a formal deal - would be a "pretty good option".
The Scottish government has indicated it would refuse to take on its share of UK debt if an independent Scotland was denied a currency union, something which has been ruled out by the main Westminster parties.
Mr Gilbert said: "Low or no debt would be the position if an independent Scotland were denied access to Bank of England financial assets, and that would leave the newly-independent country in both budget and balance of payments surplus. Not a bad start."
His comments come after RBS, Lloyds, Standard Life and Clydesdale revealed they were making plans to relocate their headquarters or establish legal entities in England if there is a "Yes" vote.
John Lewis has also warned that shoppers in Scotland could expect higher prices if the country becomes independent.