Insulation firm Superglass sees shares fall sharply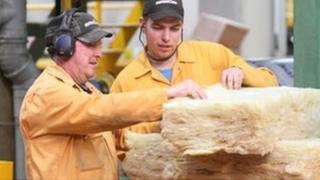 Shares in troubled insulation maker Superglass fell sharply after the firm said it was considering plans for a discounted share issue of at least £5m as part of its turnaround strategy.
The company said the move would enable cost-saving plans to be implemented.
Superglass also confirmed it had held talks with potential buyers of its principal trading subsidiary.
But it concluded offers received so far would provide "unacceptable returns for shareholders".
The Stirling-based company has since appointed advisers to approach other potential buyers to gauge their interest.
In a trading update, the Superglass board said the share issue proposal had the support of "significant" shareholders.
New banking facilities of up to £4.8m are expected to be in place before the end of September, which will replace existing arrangements with Clydesdale Bank.
But the board said the facilities alone would not be adequate to complete its cost-saving initiatives.
'Pricing pressure'
In a statement, Superglass reported that overall trading for the full year was "slightly behind" management expectations, but revenues in the second half had shown improvement.
It said trading conditions in the UK insulation market had continued to be difficult, with excess manufacturing capacity, a highly competitive environment and continued pricing pressure.
The company added: "Demand from government energy efficiency schemes has remained at negligible levels and no near-term pick-up is anticipated.
"By contrast, demand from construction markets is showing good growth, fuelled by new-build housing activity and commercial construction.
"Responding to this ongoing trend, the group has been repositioned to focus on construction markets, with sales to that sector now accounting for 80% of UK revenues compared to 30% four years ago."
In early trading on Tuesday, Superglass shares were down by about 14.5% to 20.5p.