Coutts bank sets aside £110m for compensation payouts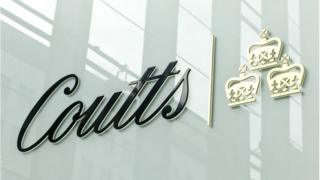 RBS-owned private bank Coutts has set aside £110m to compensate thousands of customers who may have been sold unsuitable investments.
The business has made the provision as part of a review of advice to clients dating back to 1950.
It is understood the money will come from a £206m provision that RBS has already made for the private bank.
The move comes days after RBS was fined £14.5m for serious failings in its advice to mortgage customers.
The failings occurred from June 2011 to March 2013.
Coutts chief executive Michael Morley has already written to 15,000 customers, warning them there had been "some instances where the advice given during our previous advice process could have been better".
It comes after the business agreed to review investment advice, following new rules from the Financial Conduct Authority (FCA) in November 2012.
The provision is not the first time that Coutts, which counts the Queen among its clients, will have had to pay out for past mistakes.
In March 2012 it was fined £8.75m for failing to ensure it was doing enough to be certain it was not handling laundered money, and was given a £6.3m penalty for misleading customers over a savings product linked to bailed-out US insurer AIG.