Food and drink sector 'could create 10,000 jobs'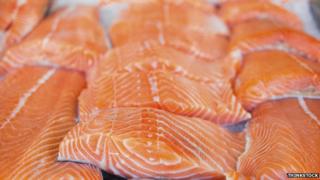 Nearly 10,000 additional jobs could be created in Scotland's food and drink sector over the next five years, according to a new report.
The Bank of Scotland found three-quarters of food and drink businesses it surveyed were forecasting up to 15% growth in the next five years.
Two-thirds said they were expecting to increase their workforce by 2019.
The report found exporting and overseas markets remained key drivers for growth in the sector.
The jobs forecast was based on the responses of more than 100 Scottish food and drink businesses.
The report said exports were playing an increasingly important role in the sector, with Scottish salmon making a "significant contribution" to a surge of UK exports to China last year.
More than half of survey respondents (58%) said they planned to have new international customers in the next five years.
A total of 86% said they intended to pursue new customers in Western Europe, while 67% planned to find new business in the Far East and Asia.
However, the firms also highlighted challenges facing the sector, with 84% citing volatility in the cost of raw materials as a key issue.
'Key driver'
Graham Blair, from Bank of Scotland, said: "Scotland's food and drink sector is already a key growth driver for Scotland's economy, and this report gives a taste of how it will become even stronger.
"The sector has vastly outperformed the wider economy in recent years, growing strongly during the downturn but as global economic conditions continue to improve its growth is likely to accelerate even further in the next five years. "
James Withers, chief executive of industry body Scotland Food and Drink, said: "We are witnessing record growth levels in the Scottish food and drink industry, with the nation cementing its reputation at home and abroad as a 'Land of Food and Drink'.
"We have moved from a position of static growth in 2007 to a 40% rise in the value of the sector since then.
"Whilst recent years have taken the industry, now worth £14bn, to a whole new level, there is still so much potential ahead of us.
"The industry and government are working in close partnership on a clear strategy and we have set a new growth target of £16.5bn in turnover by 2017.
"We have a 10-year plan to double food and drink exports from Scotland and, with real momentum now, we're right on track."