Mackie's at Taypack launches whisky-flavoured crisps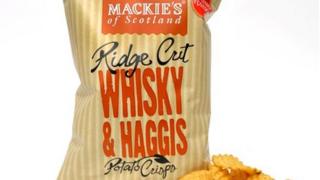 Snack fans abroad could soon be sampling a taste of Scotland's national drink after Scottish firm Mackie's announced the launch of its first whisky-flavoured crisps.
Perthshire-based Mackie's at Taypack said its new line of whisky and haggis-seasoned crisps would be available from this week at Scottish Co-op stores.
It will later be offered to the firm's export markets.
Mackie's is also launching a new venison and cranberry-flavoured line.
The two flavours are joining its existing ridge-cut crisp range.
The company is already producing several lines with a distinctively Scottish flavour, including haggis and cracked black pepper and flame-grilled Aberdeen Angus.
Mackie's at Taypack managing director George Taylor said: "We felt it was time to add a Scottish twist to the range as our Scottish flavours have always been very popular.
"We were particularly keen to try a whisky seasoning as Scotch is so renowned around the world.
"We tried various combinations and the whisky and haggis pairing came out on top. Venison and cranberry was also an instant hit when it came to internal and consumer tastings.
"We are very excited to see the market's reaction to the new flavour lines."
Mackie's sells its crisps in 20 foreign countries, including the US, Japan, Singapore and Indonesia.
The firm's biggest export market is Canada, where it expects this year to deliver about one million packs.
Mackie's at Taypack was founded in 2009 as a joint venture between Aberdeenshire-based Mackie's of Scotland and Perthshire potato company Taypack.