Pierhead Tavern on Arran to close after failing to attract tenants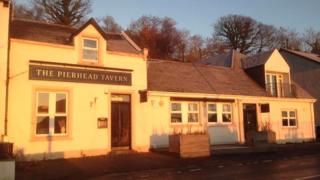 A well-known Arran pub is to shut at the end of this month after failing to attract new tenants.
The announcement was made by Arran Brewery, which stepped in to run the Pierhead Tavern in Lamlash last year on behalf of landlords Punch Taverns.
The brewery said affected staff would be offered jobs at its other sites both on Arran and on the mainland.
It is understood that the pub may be converted into a residential development.
Arran Brewery managing director Gerald Michaluk said: "We had had only three potential tenants look at the site while we have been caretakers but all felt the condition was poor and the investment required was too great.
"We have been in a 'Catch 22' scenario as we have not been able to purchase the site at an economically viable price for public house use, and as we don't own the site we have not been able to commit to any refurbishment to a standard that reflects the quality of our brands.
"So rather than risk damage to our brands' reputation, we have reluctantly decided to call it a day.
"Staff will be offered jobs at our other sites both on Arran and on the mainland so there will be no job losses."