Festivals Edinburgh: hotel rates at 'limits of tolerable'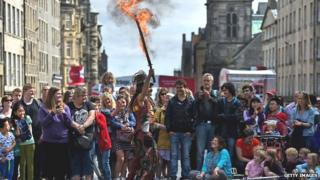 Soaring accommodation costs during the Edinburgh festival period could put the city's reputation at risk, MSPs have been told.
Festivals Edinburgh director Faith Liddell said hotel rates during August were at the "limits of tolerable".
Research by hotel price comparison site Trivago found prices in Edinburgh rose by 36% to £196 during the festival fringe.
The event runs from 1 to 25 August in the capital.
Ms Liddell was responding to questions by members of Holyrood's Economy Committee on the costs facing tourists and artists visiting the city.
Festivals Edinburgh, which was created by the directors of Edinburgh's 12 major festivals, regularly raised concerns about the issue, she said.
Ms Liddell told MSPs: "There is an issue about not interfering too much and allowing it to operate as a market.
"But we do need to think about the visitors as well, and I know that it is definitely being talked about that it is at the limits of tolerable.
"The hoteliers are there to make a profit within the market place. We do feel that we're at the stage where they need to look at it as well as a risk to all of us.
"The conversation we are raising is about city reputation, and that is in all our interests."
The city's festivals generate £261m of economic impact for Scotland and 5,242 full-time jobs in Edinburgh, according to figures submitted to the committee.
Ms Liddell said they faced a number of challenges to ensure that success continued, including responding to competing cities that wanted to "knock us off our perch".
She added: "The contracting public purse and pressures on both council and broader government budgets are a threat to us."