Wood group earnings up on US shale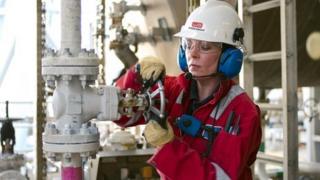 Oil services company, Wood Group, has reported a 10% rise in revenues on the back of activities in US shale gas market.
The firm's earnings were $3.8bn (£2.7bn) in the first six months of this year.
There was strong growth in the group's production arm with earnings up 47% "driven by performance in shale".
But there was weakness in the firm's upstream activities. The engineering division reported a fall in earnings.
The Aberdeen-based company, which designs, builds and maintains oil and gas facilities and pipelines, said it continued to expect full-year earnings before interest, tax and amortisation (EBITA) to increase from last year, led by its production services segment.
Bob Keiller, chief executive of the group, said: "We have seen strong performance in our PSN Production Services activities in the US shale market, offset by an anticipated lower contribution from upstream engineering and weaker than expected performance in our turbine activities.
He added: "Overall, the outlook for the group for the year remains unchanged from the position outlined at our December 2013 trading update."