Oil explorer Cairn announces losses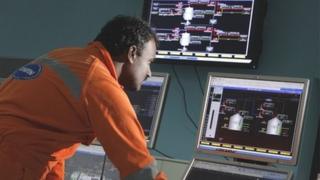 Edinburgh-based oil and gas explorer Cairn Energy has announced losses after tax in the first half of this year of $62m (£37m).
That compares to a loss of $219m (£131m) in the same period a year ago.
The company said it was committed to seven exploration and appraisal wells over the next year.
Cairn is still trying to resolve a tax issue in India and said it would "take all necessary steps to protect shareholders' interests".
Projects are ongoing in the Barents Sea as well as in Senegal and the UK North Sea.
The group said a number of further exploration wells, "predominantly in the North Sea, will be subject to final investment decisions by partners".
Cairn said its group cash position of $1.1bn (£650m) was adequate to pay for its operations in the foreseeable future.
It has earmarked $300m (£178m) to be spent in the second half of this year and another $110m (£66m) for its 2015 drilling campaign.
Simon Thomson, chief executive of Cairn Energy, said: "Cairn's future programme of high quality development projects and material exploration drilling is fully funded through to delivery of free cash flow from 2017.
"The company is focused on creating value and shareholder returns from disciplined capital allocation across a balance of exploration and development assets."