Starting pay continues to climb, says Bank of Scotland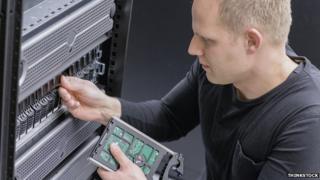 Starting salaries continued to climb last month as demand for staff intensified, according to a report on Scotland's labour market.
The Bank of Scotland's Report on Jobs also found a sharp rise in the number of people finding permanent jobs.
The rise in placements north of the border was far sharper than across the UK economy as a whole.
However, the bank said a further sharp drop in the number of candidates for vacancies was a cause for concern.
The rises in salaries and placements were the highest in the history of the survey, which was launched almost 12 years ago.
Glasgow recorded the fastest increases in both pay and appointments.
Survey record
The bank's labour market barometer - which is designed to provide a snapshot of market conditions - climbed to a fresh survey-record high of 67.3 in July, up from 65.1 in June. Any figure above 50 represents an improvement in market conditions.
July's increase in permanent starting salaries was a second consecutive survey record.
Salary inflation was also faster than the UK average for the first time since February.
A similar trend was recorded for temporary hourly pay rates.
Almost half of all recruitment consultancies surveyed (48%) recorded an increase in placements compared with the month before, whereas only 15% recorded a decrease.
There was also positive news on temporary jobs, which saw billings rise to the greatest extent since January.
Staff demand
Behind the faster increases in placements and pay was a further strengthening of demand for staff in July.
Vacancies were up for both permanent and temporary jobs, with the number of openings having risen more markedly than in the previous month.
However, recruitment consultancies operating in Scotland reported a further sharp deterioration in the availability of candidates.
Permanent staff demand was strongest in the IT and computing sector, while nursing/medical/care staff were the most sought-after for temporary jobs.
Bank of Scotland chief economist Donald MacRae said: "July's Barometer provided further proof of the continuing recovery.
"The month saw survey-record increases in both the number of people appointed to permanent jobs and in starting salaries.
"Demand for both permanent and temporary staff was expressed by a surge in vacancies accompanied by a drop in the number of candidates available.
"These trends should lead to further gains in employment and eventually to an increase in overall earnings growth.
"The Scottish economy continues to recover strongly."