Scottish shopper numbers 'boosted' by Commonwealth Games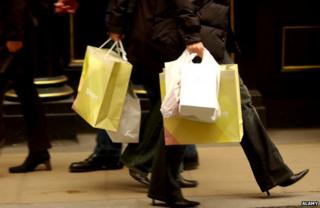 The Commonwealth Games in Glasgow drew more shoppers on to Scotland's high streets last month, a report has found.
Research agency Springboard suggested footfall rose by 4.4% in July - the highest year-on-year increase seen in any area of the UK.
Scotland also outperformed the UK as a whole on the number of empty shops.
The rate north of the border was 9.1% in July, an improvement from 10.7% in the previous quarter.
Scotland's rate is now lower than the UK average for the first time since October last year.
In terms of footfall, retailers said shops had been buoyed by the "large numbers" who came to Scotland for the Games.
They also attributed the increase to their efforts to tempt shoppers with keen prices and promotions.
Scotland's high streets benefited the most, with an increase in footfall of 6%, compared with just 1.6% in shopping centres.
For the UK as a whole, footfall in July was 0.6% lower than a year ago.
UK high streets reported the largest decline, falling 1.7%, while shopping centres saw numbers fall by 0.5%.
Footfall in out-of-town locations fared best, with a 1.7% increase year-on-year.
'Sprightly results'
Scottish Retail Consortium director David Lonsdale said: "This is a sprightly set of results.
"We will have to wait for the publication of our Scottish monitor later this month to see what impact, if any, the swollen footfall numbers and the feel-good factor generated by the Games had in relation to actual sales.
"The solid improvement in the vacancy rate is similarly encouraging, with the number of empty retail premises now below 10% for the first time in two years.
"That said, one in every 11 shops is still empty, and so government and local authorities need to focus on making it as simple and cost effective as possible for retailers to invest in new or existing premises."