Yellow Pages firm Hibu announces plans to shed hundreds of jobs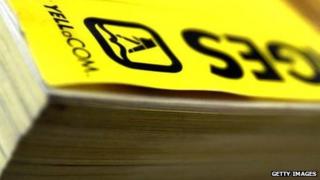 Yellow Pages owner Hibu has announced plans to shed hundreds of jobs in the UK as part of a restructuring drive.
The company has proposed ending its telesales operations in Glasgow, with the loss of about 180 jobs.
Hibu, whose parent company went into administration in November, also plans to end its telesales and customer service operations in Manchester, with an unspecified number of job losses.
It is also proposing to scale back on customer service roles in Reading.
Formal consultation has started on proposals to end its Glasgow telesales customer operation. The company said that activity in future would be concentrated in Birmingham.
Its Manchester telesales activity will be taken up by its Belfast operation.
The telephone directory and digital company runs operations in the UK, US, Spain, Argentina, Chile and Peru and had a total of 12,000 employees as of last year.
'Cost efficiencies'
In a statement, Hibu said: "Hibu is building a new, highly competitive digital business, while also working to manage our well-established core directories business in line with market opportunities.
"To help achieve these goals we have initiated a new programme of proposed cost efficiencies and savings as part of our ongoing restructuring to ensure a sustainable, valuable business.
"The programme supports our focus on business operations, initiatives and underlying sales approaches that give the greatest long-term potential and that strongly position us for accelerating digital growth.
"Regrettably, as part of this process we anticipate a reduction in our overall UK workforce, primarily through the reduction and consolidation both of our UK telesales and our customer services roles, with a proposed increase in operational activity within our overseas locations."
Debt burden
Hibu, which rebranded itself from Yell in 2012, has been struggling with a heavy debt burden.
After Hibu's parent firm went into administration, the Yellow Pages business and other subsidiaries continued to trade as normal.
Hibu's debt mountain grew after several acquisitions in the past decade, amid plummeting sales because of the rise of the internet.
In July last year, lenders took control of Hibu in a restructuring deal aimed at saving jobs.
That deal cut £800m off the company's £2.3bn debts.