Scottish licensed trade calls for business rates cut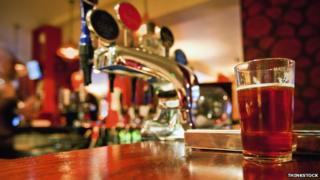 Scotland's licensed trade has urged the Scottish government to reduce business rates for pub operators, arguing they are "a serious burden" on the industry.
The Scottish Licensed Trade Association said it feared as many as three pubs were closing each week in Scotland.
It laid much of the blame on rates, saying they "unfairly" amounted to 8% or 9% of an operator's turnover.
The Scottish government said business rates were set by independent assessors.
It also said about two in every five pubs in Scotland paid zero or reduced business rates bills.
SLTA's concerns were raised after new research by the Campaign for Real Ale (Camra) suggested pub closures in England have increased from 26 a week a year ago to 31 now.
Camra blamed the increase on English planning legislation but pub operators in Scotland said their main concern was the amount of rates they were having to paying.
'Home drinking'
SLTA chief executive Paul Waterson told BBC Scotland that the on-trade was suffering because of high rates bills.
He said: "Our rates are a serious burden to operators up here.
"We have never really recovered from the smoking ban and cheaper alcohol in supermarkets, and more people drinking at home.
"It is very difficult to get hold of figures in Scotland but we would imagine that the market is very similar to England's.
"I would be surprised if there were not three pubs a week closing. I don't think the number of openings are keeping abreast of the closures."
He added: "The ratings system for the on-trade in Scotland is completely unfair.
"Why should we pay 8% or 9% for rates when other businesses do not have to pay that much? If you rated all shops like that you would decimate them.
"This is the biggest problem the licensed trade in Scotland is facing and I would like the Scottish government to look at our rating system, which is unique in terms of businesses.
"If we are trying to regenerate our town centres, we have to look at that."
'Independently valued'
Responding to SLTA's call, the Scottish government said all properties in Scotland were valued independently by the Scottish Assessors.
A spokeswoman added: "The Scottish government is delivering the most competitive business tax environment anywhere in the UK through our business rates policies, which includes a package of business rates reliefs worth more than an estimated £590m.
"As part of this, around two in every five pubs in Scotland pay zero or reduced business rates bills.
"In addition, our Small Business Bonus Scheme has reduced or removed business rates taxation for over 92,000 business premises, which includes pubs, and we have legislated to maintain the scheme for the lifetime of the Parliament.
"The Scottish government has also committed to match the poundage for business rates in England for the rest of this parliamentary term."