Registers of Scotland: House prices rise by 5.9%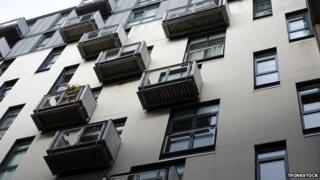 The average price of a house in Scotland has risen by 5.9% in the past year, according to official figures.
Registers of Scotland said the average cost of a home in the three months to June was just over £162,000.
The total value of sales across Scotland registered in the quarter increased by 29.7%, compared with a year ago, to stand at almost £3.95bn.
The number of sales also increased by more than 22%, indicating sustained growth over the past year.
A total of 24,351 sales were registered across Scotland during the latest quarter - the highest volume for the same quarter since 2008/09.
The highest percentage price rise was recorded in Renfrewshire, with an average price of £128,138. That represented an increase of 16.8% over the year.
East Renfrewshire recorded the highest average price of £232,987, a rise of 10%.
The largest percentage fall in price was again in Midlothian, which showed a drop of 6.3%. The average price in that area was just over £169,000.
All property types saw an increase in average price in the quarter, with flats showing the biggest increase at 5.3%.
Detached properties showed the biggest increase in sales volumes of 23.3%, while semi-detached homes and flats showed the next biggest increase at 22.2%.
West Lothian again showed the largest percentage rise in the number of sales, with an increase of 39.1%.
The City of Edinburgh recorded the highest sales volume, with 2,944 residential house sales - an increase of 30.6% on the previous year.
'Sustained growth'
Registers of Scotland's director of commercial services, Kenny Crawford, said: "This is the fourth consecutive quarter that volumes have increased in excess of 22% on the previous year, demonstrating sustained growth in the Scottish property market.
"All local authorities showed an increase in sale volumes, with the exception of Aberdeen City, which decreased by 2.1%.
"It's also the first time in almost four years that we've seen the average house price rise by more than 5%, bringing the average residential property price to £162,122."
The Registers of Scotland figures cover all residential sales, including those that do not involve a mortgage.