US asset manager Legg Mason buys Martin Currie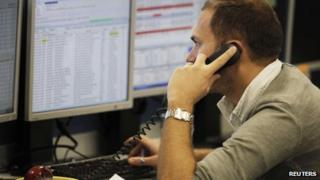 US-based asset manager Legg Mason has announced it is buying Edinburgh-based international equity specialist Martin Currie for an undisclosed sum.
Legg Mason said the acquisition would expand its product capabilities.
Under the terms of the agreement, Martin Currie will become a wholly-owned affiliate. The deal is scheduled to close during the fourth quarter of this year.
Martin Currie had $9.8bn (£5.77bn) in assets under management as of 30 June.
It manages portfolios for financial institutions, charities, foundations, endowments, pension funds, government agencies and investment funds.
Its international client base is spread across Australia, Asia, Europe, the Middle East, Africa and the US.
The senior management team at Martin Currie has signed new long-term contracts with Legg Mason in conjunction with the transaction.
'Perfect complement'
Joe Sullivan, president and chief executive of Legg Mason, said: "Martin Currie's active international equity capabilities fill our largest product gap and are a perfect complement to our existing investment capabilities.
"The Martin Currie management team shares our passion for innovation, our commitment to delivering compelling investment results and our singular focus on the needs of our clients."
Martin Currie chief executive Willie Watt said: "We believe Legg Mason is the ideal strategic partner to grow our business further and will position us as the strategic international equities specialist in one of the most powerful independent investment management companies globally.
"Most importantly for our clients, the partnership gives us investment and operational autonomy, and this means our client proposition remains unchanged.
"In partnership with Legg Mason we will have efficient access to new markets and client segments through their market-leading and sizeable retail distribution network as well as valuable seed capital which will allow us to be at the forefront of new product innovation."