Subsidy deal 'will cut north of Scotland electricity bills'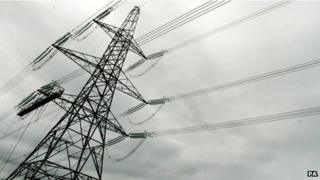 North of Scotland consumers will benefit from a deal to spread the subsidy costs of providing electricity to the Shetland Islands across Great Britain, the UK government has said.
Until now, residents in the north of Scotland have footed the entire subsidy bill for Shetland.
But the government said spreading the costs meant the average northern consumer would save £42 a year.
The announcement came as Prime Minister David Cameron visited Shetland.
His office said the move would put the electricity subsidy on a more sustainable, long-term footing and keep prices at 75% less than they otherwise would be.
It follows a previous UK government announcement that Shetland's power plant, built in 1954, would be replaced in 2017. The government has said it would help meet the cost of a new one.
Mr Cameron is only the third sitting prime minister to visit the islands, and the first since Margaret Thatcher in 1980.
He said: "I wanted to come because I care passionately about the future of our United Kingdom.
"I want us to vote to stay together on 18 September and I wanted to come to this, the most far-flung part of our United Kingdom, to listen to people, to hear their concerns and to give the message that I hope we stay together."
'Glaring omission'
Scottish Energy Minister Fergus Ewing said: "It seems that even the prospect of Scottish independence is already getting action for Shetland from the UK government and the first visit by a sitting prime minister for decades.
"Locals will no doubt ask - given Westminster's control over energy policy - why this move did not happen years ago.
"However there is a glaring omission from the Prime Minister's announcement.
"The Shetland Islands will be enabled to play their full part in Scotland's clean energy revolution only when they are connected to the mainland electricity grid.
"Shetland is the only community of its size in the entire British Isles which lacks such a connection.
"It is deeply disappointing the Prime Minister did not take this opportunity to rectify this anomaly."
He added: "The question of how we build on our abundant energy resources is central to Scotland's constitutional debate.
"Independence would give responsibility for Scotland's natural resources to the people who are most likely to harness them wisely - those who live and work in Scotland."