Whisky fuels Scottish retail sales rise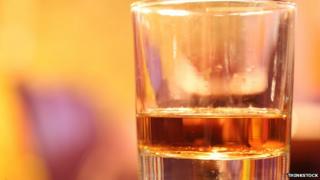 New analysis has shown the popularity of whisky helped retail sales of Scottish food and drink brands across Britain rise to nearly £2bn.
The figures cover the 12-month period to May 2014.
Famous Grouse, Bell's Whisky, Whyte & Mackay and Grant's Whisky were the top four Scottish food and drinks brands during the period.
Other brands like Baxters, Tunnock's and Irn-Bru have helped retail sales value rise by more than 36% since 2007.
Between May 2013 and May 2014, the estimated value of retail sales of Scottish food and drink products was up by 3.3%, according to the Scottish government analysis of grocery purchases across Scotland, England and Wales.
Scotland's food minister Richard Lochhead said: "Business is booming for Scottish food and drink, not just here in Scotland but across these islands and around the world.
"Our global reputation for top-quality food and drink with unrivalled provenance is driving up sales of iconic Scottish brands and products at home and further afield - as demonstrated by the strong and increasing demand for Scottish food and drink brands in England and Wales."
The analysis comes as new figures show that almost one fifth (19%) of Scotch whisky exports goes to Commonwealth countries.
Last year, exports to the Commonwealth were up 1% on 2012 to £793m, from a global total of £4.3bn, according to the Scotch Whisky Association (SWA).
Singapore is the largest market in the Commonwealth for Scotch whisky, with exports of £330m last year, followed by South Africa with exports of £163m, Australia at £84m and India with £69m.
Economic growth and increasing disposable incomes mean new markets are also emerging in parts of Africa, the SWA said.
Exports to Nigeria rose 43% to almost £14m last year, making it the seventh biggest market in the Commonwealth.
David Frost, SWA chief executive, said: "In many Commonwealth countries, Scotch whisky has been popular for years.
"As economies in other countries develop, young, professional consumers are developing a taste for Scotch whisky, which they rightly regard as an aspirational drink of quality."