Deloitte: North Sea oil firms adopt 'wait and see' policy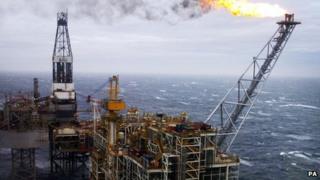 Investment in the North Sea has stalled, with planned changes to how the industry is regulated cited as a possible cause, a new report has said.
Business advisory firm Deloitte said many companies might be adopting a "wait and see" policy before making investment decisions.
The oil and gas industry is going through some big changes to deal with rising costs and help maximise output.
A new regulator, the Oil and Gas Authority, is currently being set up.
There is also an ongoing review into taxation.
Deloitte said the latest figures suggested the changes were actually stifling investment, at least in the short term.
A total of seven exploration and appraisal wells were "spudded" in the UK Continental Shelf (UKCS) over the second quarter of this year, down from 12 in the previous quarter.
This was 10 wells fewer than the same time last year and the lowest number since at least 2004 when consultancy Deloitte started compiling the data.
Exploration statistics
The government-commissioned Wood Review recommended setting up an independent oil and gas regulator to help Britain squeeze as much fossil fuels out of the ground as possible.
The Oil and Gas Authority, which will oversee Britain's North Sea licensing work, is expected to start operating this autumn.
"It's likely that the industry could be pausing until it has a better understanding of the impact of (the Wood Review), and the effect on the long-term future of the North Sea, before making any big investment decisions," said Derek Henderson, senior partner at Deloitte's Aberdeen office.
The government is also consulting on changes to its oil and gas taxation regime, a factor which will have a huge impact on the investment choices of energy companies.
Mr Henderson said exploration statistics in other parts of the North Sea, operated by Norway and the Netherlands, were also down.
He said developers were now spending five times more to extract a barrel of oil from the North Sea than in 2001 as they tried to tap areas that are harder to reach.