Opencast mine developer Hargreaves 'hires 500th worker'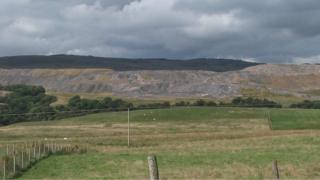 Opencast mine developer Hargreaves Surface Mining Limited (HSML) has announced that it has taken on its 500th worker since moving into the Scottish coal sector a year ago.
The company said the jobs milestone marked the continued growth of the sector following the collapse of Scottish Coal and ATH Resources.
The operators folded after a slump in coal prices.
Hundreds of workers were hired by HSML when it took over several mines.
The company currently manages seven sites across Scotland.
They include St Ninians and Muir Dean in Fife, Broken Cross in South Lanarkshire, Duncanziemere, Netherton and House of Water in East Ayrshire and Glenmuckloch in Dumfries and Galloway.
HSML said it hoped to create further jobs as restoration work at existing mines progresses and new sites are opened.
The company has permission to open a site at Cauldhall in Midlothian and is currently working through the planning process.
'Target achieved'
Managing director Peter Gillatt said: "Reaching 500 employees was a target we set ourselves as soon as we got involved in the coal industry in Scotland - and to achieve this within 12 months is a great indication that there remains a substantial demand for coal, as well as our drive and determination to succeed.
"Our aim now is simple - to continue building on this success and to create more jobs, contribute to local economies and provide opportunities within our supply chain to secure and develop further employment."
Energy Minister Fergus Ewing welcomed the jobs announcement.
"I met with Hargreaves this time last year when the coal industry and a number of local communities were having to deal with considerable uncertainty and disappointment following the collapse of Scottish Coal and ATH Resources," he said.
"At that meeting, Hargreaves Surface Mining said that securing and creating jobs was a top priority in re-establishing the industry in Scotland and they haven't disappointed and have delivered on their promise, for which they deserve considerable praise."