Halifax opens second Scottish branch in Glasgow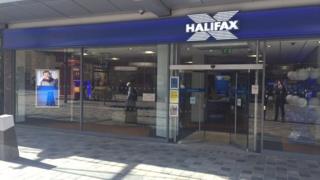 The Halifax bank has announced the opening of its second Scottish branch, in Glasgow.
Last year owner Lloyds Banking Group announced plans to bring the brand back to Scotland's high streets.
The first Halifax branch opened in Aberdeen in December and a third branch is set to open in Edinburgh next month.
Halifax said the latest opening showed that the bank continued to "demonstrate its commitment to customers in Scotland".
The new branch in Glasgow's Sauchiehall Street will be open seven days a week and will have 32 members of staff.
The bank said no further openings were scheduled in Scotland after Edinburgh.
'More choice'
David Nicholson, group director of Halifax Community Bank, said: "We're delighted to be able to open our second branch in Scotland and provide customers in Glasgow with more choice in the way that they do business with us, whether it's online, by phone, and now also in branch."
Halifax first opened a branch north of the border in 1928.
In 2001 Halifax and Bank of Scotland merged to form HBOS, leading to dual-fronted branches.
When HBOS became part of Lloyds Banking Group in 2009, Bank of Scotland became a distinct brand and the name of Halifax disappeared from the high street in Scotland.