Law firm Brodies reports strong revenue and profit growth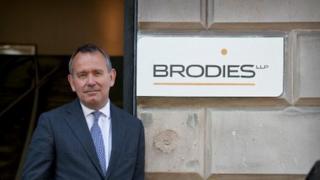 Brodies has become the latest Scottish law firm to report strong revenue and profits growth.
The firm, which has offices in Glasgow, Edinburgh, Aberdeen and Brussels, saw turnover climb by 13.2% to £52.1m for the year to the end of April.
Operating profits before partner distributions rose by 23% to £23.7m.
Brodies said the solid increase in turnover had been achieved after the successful completion of a three-year strategic plan.
Over the year, the total number of Brodies staff grew from 534 to 564. The number of lawyers and other professional advisers increased from 326 to 348, while the partner headcount rose from 75 to 80.
Managing partner Bill Drummond said: "Over the past year, we have seen further sweeping changes in the Scottish legal market.
"However, this changing environment, and the slowly improving economic prospects, present opportunities for Brodies and for our clients.
"We regard our increase in turnover as satisfactory against this backdrop of improving economic conditions for clients, particularly in the second half of the year.
"The improving UK economy and more stable conditions in the eurozone have encouraged many clients to move forward with greater confidence in the long-awaited recovery and to invest in their businesses and ventures.
"This fed through into increased transactional activity for the firm, especially for our real estate, corporate M&A (mergers and acquisitions), energy and finance teams."
Profits surge
Earlier this week, law firm Morton Fraser reported a surge in revenues and profits, following its merger last year with solicitors Macdonalds.
The firm, which operates in Edinburgh and Glasgow, saw revenues rise 24% to £16.9m, while net profit was up by 42% to £5.5m in the year to the end of April.
Commercial law firm Maclay Murray & Spens, which has offices in Aberdeen, Edinburgh, Glasgow and London, also reported a "robust" financial performance in the last financial year.
It said turnover increased by 7.3% to £43.3m.
Profit for the year to the end of May reached £14.1m, up from £10.8m the previous year, while profit per equity partner (PEP) increased by £50,000 to £261,000.