More Scottish companies recycling, survey finds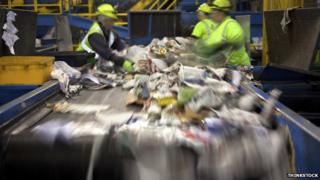 More Scottish companies are recycling following the introduction of new regulations, according to a report.
Since the start of the year, firms have been required to separate all waste metal, plastic and card for recycling.
A survey of 1,000 businesses by the Every Can Counts programme found 72% had implemented the regulations and 91% had set future targets.
This was up on last year, when 68% of businesses said they were setting recycling targets.
Every Can Counts is a partnership between drink can manufacturers and the recycling industry.
'Great progress'
Programme manager Andrew McFarlan said: "Great progress has been made in the past year in getting Scotland's businesses to meet the requirements of the Waste (Scotland) Regulations.
"However, our research suggests there is still work to be done.
"During our first 18 months in Scotland Every Can Counts has already helped more than 600 businesses to adapt to the new regulations by making it easier to start, or increase the recycling of drinks cans.
"As awareness of the regulations increases we want to help even more business across the country to work towards compliance with Scotland's future sustainability targets."
The new regulations require waste to be separated into paper, card, plastic, metals and glass for collection.
All food businesses producing more than 50kg of food waste each week must present it for separate collection, unless they are in a rural area.
Those failing to comply with the new laws risk a maximum fine of £10,000.