Lees of Scotland and Tunnock's win Snowball tax appeal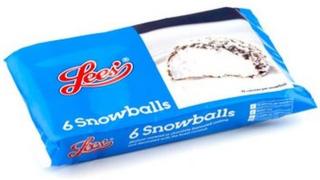 Two Lanarkshire-based confectionery firms are set to receive a windfall tax rebate after judges ruled Snowball snacks were technically cakes.
Lees of Scotland and Tunnock's faced a combined tax bill of £2.8m after HM Revenue and Customs insisted Snowballs did not enjoy the same exemption from VAT as tea cakes.
The firms refused to accept snowballs were "standard-rated confectionery".
Judges at the First-tier tax tribunal ruled in their favour on appeal.
They decided the issue after being presented with a plate of Jaffa Cakes, Bakewell tarts, tea cakes, Lees Snowballs, Waitrose meringues and mini jam snow cakes during the hearing.
Judge Anne Scott said: "We found that the plate looked like a plate of cakes. We were also left with samples of all of these, together with Tunnock's Snowballs.
"We tasted all of them, in moderation, either at the hearing or thereafter.
"A Snowball looks like a cake. It is not out of place on a plate full of cakes. A Snowball has the mouth feel of a cake", she added.
Lees and Tunnock's insisted their Snowballs should be VAT-free, in the same way as Jaffa Cakes.
However, HMRC was equally adamant that they were, in fact, confectionery.
Claims for a £2m VAT rebate by Coatbridge-based Lees of Scotland Ltd, and for £800,000 by Uddingston-based Thomas Tunnock Ltd, were rejected in 2012.
'Not a biscuit'
At the tribunal, Judge Scott said it was not disputed that Snowballs were a "sweetened prepared food which is normally eaten with the fingers" and that everyone "agreed that a Snowball is certainly not a biscuit".
Snowballs are described by Lees as "soft fluffy mallow with a chocolate coating and sprinkled with the finest flakes of coconut to create a delicious sweet treat".
They are believed to derive from a shaved ice New Orleans snack, first on offer before the 1940s.
The judge described Snowballs, which are boiled and not baked, as "very fragile", "very sweet" and observed that their mallow core was "similar" to that found in tea cakes.
She said Snowballs and tea cakes made by Lees - often manufactured for supermarket's own brands - were sometimes promoted together, appeared on the same shelf and were sold at similar prices.
Tunnock's, which only make their own brand Snowballs, produce a snack "much softer and more fragile than the tea cake". It is usually offered alongside its best-selling product, Caramel Wafers, in the biscuit aisle.
'Confection to be savoured'
Judge Scott said: "Most people would want to enjoy a beverage of some sort whilst consuming a Snowball.
"It would often be eaten in a similar way and on similar occasions to cakes - for example to celebrate a birthday in an office."
She said the tribunal was "wholly agreed" that a Snowball was a "confection to be savoured but not whilst walking around or, for example, in the street".
She added: "Most people would prefer to be sitting when eating a Snowball and possibly, or preferably... with a plate, a napkin or a piece of paper or even just a bare table so that the pieces of coconut which fly off do not create a great deal of mess.
"Although by no means everyone considers a Snowball to be a cake, we find that these facts, in particular, mean that a Snowball has sufficient characteristics to be characterized as a cake.
"For all these reasons the appeals succeed."