Engineering firm STATS Group launches new training centre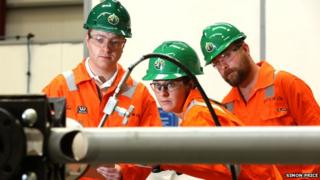 Pipeline engineering firm STATS Group has invested £500,000 in establishing a global training centre at its UK headquarters in Aberdeenshire.
The centre in Kintore will be used to meet training and assessment needs for its field and workshop technicians and design and project engineers.
STATS said the move was in response to demand for its patented technologies.
The group provides isolation, intervention, repair and testing of energy industry pipeline systems.
The opening of the new centre follows another recent £500,000 investment in additional facilities at Inverurie, where the company's Process Plant Solutions (PPS) business has been relocated.
The PPS division, which includes tools testing and equipment rental, expects to increase revenue by 20% as a result of increased capacity.
Global bases
The company employs 250 staff at its Kintore, Inverurie and Kendal bases in the UK and in Canada, USA, Abu Dhabi, Qatar and Malaysia. It expects to recruit a further 45 people in the next year.
STATS chief financial officer Leigh Howarth said the rate of growth experienced by the business required an in-house training facility that would maintain and improve quality and competency standards.
He added: "As a fast-growing niche engineering business, our reputation and future development is dependent on being able to deliver complex projects safely, without incident and on budget.
"To maintain this growth we have to equip our staff with specialist training and competency support and this significant investment in our own training centre underlines that commitment."