Scots hotel market continuing to perform well, says survey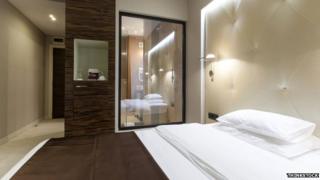 Scottish hotels are continuing to perform strongly but have yet to fully recover ground lost since the economic downturn, according to a report.
A study by business advisers BDO found rooms yield in Scotland was higher in March than the rest of the UK, while occupancy rates remained static.
However, revenue and occupancy figures were still lower than in March 2007.
BDO said there was "still some way to go" before it could be said the sector had fully emerged from the recession.
The firm's monthly hotel survey found that occupancy in Scotland was 69.6% in March, compared with 71.2% in regional UK, 71.4% in England and 70.3% in Wales.
Hotel revenues
However, Scottish rooms yield - the industry term for revenue - was £46.52, higher than the rest of the UK.
Aberdeen again led the way with the highest revenue of £69.75, which was far ahead of anywhere outside London.
Rooms yield in Edinburgh was £50.33, followed by Glasgow (£46.75) and Inverness (£29.46).
Occupancy was highest in Glasgow at 76.2%.
BDO partner Alastair Rae said: "These figures are a further indication that the Scottish hotel sector is continuing to do very well.
"The relatively static occupancy figures are actually a positive sign when combined with the increase in revenue, as it means that hoteliers felt confident enough to charge more without impacting unduly on the number of guests."
"Aberdeen maintains its position as the city with the highest revenue outside London and remains some way ahead of the competition.
"The oil price, which looks set to remain high given the current situation in Iraq, means that this positive performance is likely to continue through much of this year."
He added: "Whilst revenue and occupancy figures are generally improving across the UK it should be remembered that this is from a relatively low base and that the sector has still not fully recovered from the recession."