'Real signs of recovery' in Scottish property market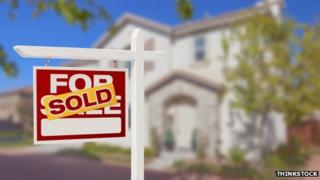 The Scottish property market is showing its first real signs of recovery since the economic downturn in 2008, according to a long-term report.
Registers of Scotland (RoS) found residential sales volumes in 2013-14 reached their highest level for six years and were up 19.8% on 2012-13.
The final three quarters of 2013-14 all showed increases of more than 20% on the same periods of the previous year.
The year-on-year value of total sales grew by 22.2% to £13.8bn in 2013-14.
The figures were included in the RoS 10-Year Property Market Report.
It found that despite a 53.4% drop in residential sales volumes in the five years to 2011-12, average house prices have gone up 36.9% since 2004.
The average prices of all residential property types have increased significantly since 2004, according to the report.
The number of properties selling for over £1m has more than doubled, and in Scotland's seven cities volumes are at their highest level for five years.
Flats have represented the largest share of the property market, making up 40% of all residential sales over the last decade.
The total value of residential sales in Scotland since 2004 is £148.7bn, contributing an average of almost £14.9bn a year to the Scottish economy.
RoS director of commercial services Kenny Crawford said: "It's been an interesting decade for the Scottish property market, which is now showing real signs of recovery since the economic downturn in 2008."
Registers of Scotland data is based on all property sales, including those which do not involve a mortgage.