Plans to cut youth unemployment outlined in Wood Report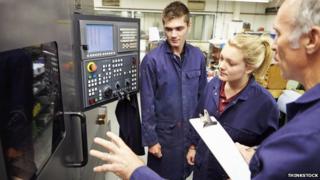 Scotland's vocational education system must be improved if youth unemployment is to fall, according to a new report.
A commission chaired by businessman Sir Ian Wood recommended that employers play a far bigger role in schools and colleges.
He said that if the measures contained in the report were implemented, youth unemployment could be cut by 40%.
Scotland's youth employment minister said she would work to take the recommendations forward.
Figures published earlier this year showed nearly a fifth of of 16-24 year-olds were out of work.
Established by the Scottish government, the commission spent 18 months consulting with industry and education to see how the country's system of vocational education could be improved.
Scotland should bring its youth employment down below 30,000 in line with the five best European countries by 2020, the commission said.
It stated: "We are simply not preparing or equipping these young people for the world of work.
"There must be much more focus on providing them with the skills, qualifications and vocational pathways that will lead directly to employment opportunities."
The recommendations include:
Enhanced careers education in primary schools
The opportunity to prepare for a modern apprenticeship in the senior phase of secondary school
more support for employers to take on young people
closer links between employers and schools and colleges
measures to improve gender balance in training
measures to remove barriers for young disabled people, care leavers and black and minority ethnic groups taking up training opportunities.
Work experience
Speaking on BBC Radio Scotland's Good Morning Scotland programme, Sir Ian said business in Scotland had "got out of the habit" of employing young people.
He said schools needed to prepare young people better for the workplace and ensure vocational training was offered as well as academic qualifications.
Sir Ian added: "It's all about building a bridge between school and college into business and industry.
"We're suggesting that we set up 15 to 20 employer-led groups across Scotland. They'll have a three-year life and will facilitate every secondary school in Scotland having a long-term partnership with local employers, to include work experience.
"We're suggesting a really worthwhile work experience and also better advice and career information.
"Frankly, business says 'we would like to employ more young people, but we're not sure how to, we don't have the resource'. We've tried to do something quite concrete to change that."
'Landmark moment'
Youth Employment Secretary Angela Constance said Sir Ian had set out "a challenging programme to transform the way we work with young people, employers, schools and colleges".
She added that Scottish government had set aside £12m to help tackle youth unemployment.
Ms Constance said: "A substantial amount of activity to help young women and men towards employment is already in place, including our very successful modern apprenticeship programme, which has seen over 77,000 new opportunities in the last three years. Opportunities for All also guarantees every 16 to 19 year-old the offer of a place in education or training.
"There is now much to consider and we will work closely with the public, private and third sectors on how the recommendations could be taken forward."
Liz Cameron, chief executive of Scottish Chambers of Commerce, called the report a "landmark moment".
She added: "For too long there has been a lack of recognition and support at a school level of those young people who wish to pursue vocational training and education.
"Whether by accident or design, a narrow focus on academic attainment within schools has emerged and it is time to complement this with the skills and knowledge that will allow young people to better access valuable and profitable opportunities on the vocational side."