Scottish independence: Banking on the old and the new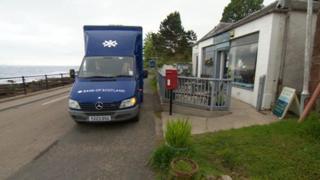 As the formal campaigning period begins for the Scottish independence referendum, BBC Breakfast has taken to the road to look at the economics at the heart of the debate. The week begins in Edinburgh, looking at the financial services industry.
Banking has historically been big business in Scotland - and from a terrace overlooking Princes Street in Edinburgh, we began our week with a view of the oldest and the new.
The copper dome of the Bank of Scotland crowns the gardens below the castle.
Our views came from the seventh floor of Aberdeen Asset Management, which was founded in the 1980s and now operates in 25 countries around the world.
Financial services remains a crucial part of the Scottish economy, employing about 85,000 people - that's 3% of the working population - and contributing £8.8bn to GDP.
Allowing this sector to thrive will be a priority of any government after September's vote.
Professor David Bell, from Stirling University, said Scotland had a broad-based economy that largely tracks similar growth in the the rest of the UK.
"It is growing at a slightly slower rate than the wider UK," he said.
"But there are a lot of opportunities here - particularly in tourism with the Ryder Cup and the Commonwealth Games.
"The Scottish brand is very strong - like Scotch whisky - and it makes the economy very marketable."
Anne Richards, chief investment officer at Aberdeen Asset Management, said financial services were a big part of that economy.
"It's a sector that's doing extremely well, especially asset management. About £800bn is managed in funds here in Edinburgh," she said.
"Edinburgh and London work really closely together, they're not really competing, they're working together in harmony."
Here to stay
The economics of independence is all about balancing the books - ensuring that Scotland has sufficient revenues from the businesses based here to support spending on everything from welfare and hospitals to economic debt.
One potential debt issue is entwined with financial services - the bailout of Royal Bank of Scotland.
That recapitalisation cost £45bn.
Just how much of that bill would fall on the shoulders of an independent Scotland has not been decided.
And just how Scottish many of these institutions remain is also unclear. The historic Bank of Scotland, for example, now owned by London-based Lloyds Group.
But banking is clearly here to stay.
"Of course banking is always going to be important to Scotland," said Jayne-Ann Gadhia, chief executive of Virgin Money.
The firm is headquartered in the North East of England but has a large office in Edinburgh, where Jayne-Ann is based.
"We've noticed the economy picking up on both sides of the border," she added. "But it's really important to have clarity over what is going to happen after September."
And it's not all about the big banks and insurance firms. Scotland's financial history means the businesses working here have a keen understanding of serving the communities in the Highlands and Islands.
Bank of Scotland has seven mobile branches that cover more than 80,000 miles each year.
On Arran, off the West Ayrshire coast, a van goes out three times a week to help local people and small firms manage their money.
Personal service
"Scotland as we know is a big country - it's not easy for all customers to get to a branch," said Bank of Scotland director Mike Moran.
"The alternative is a long bus trip or drive and we know that customers really like the personal service we can provide."
The firm believes that although there is something intrinsically Scottish about the mobile network, doing banking this way could work anywhere in the UK.
"September is fast looming - it will be a big decision. No matter what the outcome, we'll remain focused on serving our customers," he added.
On Tuesday's programme, BBC Breakfast will be in Aberdeen, looking at how energy is fuelling Scottish growth.