Glasgow 2014: Opportunity knocks for business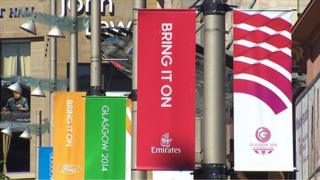 As the countdown continues to the start of the Commonwealth Games in Glasgow in July, businesses reflect on the opportunities the event presents for them.
In a high-roofed factory on an industrial estate in Glenrothes, Fife, sheets of metal are fed through a machine to be bent into what will eventually be ventilation ducts.
The mainstay of family business Ductform, which now employs about 80 people, is the manufacture and installation of ventilation duct work, mainly in construction but also in the marine and oil and gas sectors.
The company has recently completed some work on a number of Games venues.
"As far as Ductform is concerned, it's had a huge impact on our business," says managing director Stacey-Lee Ferry.
"It came at a critical time when many sectors were going through difficulties. It's been just a saviour really."
The factory may be busy now with noisy machines punching out metal and sparks flying from welding, but there have been hard times over the past few years, including pay cuts and reduced working hours.
It was really "survival", explains Ms Ferry. She credits the workforce with supporting the company through it.
"I think the legacy for us," she says, "was that it was the beginning of the upturn, the beginning of security for us and some improvement we could build upon for the future."
In various parts of Glasgow colourful banners announcing the Games have been put up, part of the drive to get things ready.
Some businesses have already benefited from work. A legacy evaluation report published in April by the Scottish government found that building firms had won £313m worth of contracts relating to the Games so far.
During the Games, restaurants, hotels and other services will be much busier than usual, with 6,500 athletes and officials in the country as well as visitors.
Stuart Patrick, chief executive of Glasgow Chamber of Commerce, says: "For some businesses this will be a major platform for them to go out into the circuit of major events around the world that occur year in, year out.
"But really for the city it's about telling a new story of Glasgow's economy and selling the strengths and assets that we have to new customers."
He points to other cities like Barcelona, which he says have made changes on the back of big events.
He is keen to emphasise Glasgow's strengths in areas such as engineering, life sciences, financial services and energy.
The chamber will be running a series of events during the Games designed to connect businesses from around the world.
But it is not just the Commonwealth Games which is happening this year.
In November 2013, the Federation of Small Businesses conducted a poll among its Scottish members about what impact they expected major events such as the Games and the Ryder Cup to have on their business.
Most felt they would be good for the Scottish economy as a whole but less than a quarter thought they would have a positive impact on their business.
Some businesses though do expect to feel the benefits: "It's just really exciting for me as a hotelier," says Duncan Johnston, general manager at the Carlton George Hotel in Glasgow city centre.
They have had extra business in the run-up to the games from sponsors and contractors and expect to be pretty much full during the Games.
He says "responsible hoteliers" won't be putting up rates which were submitted in 2006.
"We're thinking of the big picture and the long-term benefits for us as businesses."
'Spotlight on Scotland'
Some businesses are also busy preparing their staff for the event. In a smallish room at the offices of First ScotRail, a group of employees is gathered round tables, listening. Later in the day they will be doing some role-play.
They are learning how to welcome and help some of the many visitors from around the world who are expected to make the trip to Glasgow.
"They'll be people coming from all areas," says Joanne Beavers who works at a customer service centre.
"The spotlight's on Scotland - I'm looking forward to it."
First ScotRail is one of the Games' sponsors.
"Clearly we want to be associated with the games," says managing director Steve Montgomery.
"We see it as a major achievement, we think it will say what Scotland's about and what ScotRail is about."
The Games have a number of legacy ambitions. In an economic sense, these include building business capacity and awareness, showcasing Scotland's goods and services and employment and training opportunities.
On the eve of the Games, a business conference is taking place in Glasgow.
"I guess it's all about confidence-building through what we call the winning years," says Professor Joe Goldblatt, executive director of the International Centre for the Study of Planned Events at Queen Margaret University in Edinburgh.
He points to the number of big events taking place in Scotland this year.
"There really could be an opportunity to drive this forward from an economic and a business perspective but it's going to require confidence," he says.
He adds that from studying other events there is typically a three-year window of opportunity.
In autumn next year a post-Games legacy assessment is due out, with further updates in 2017 and 2019.
You can hear more about business surrounding the Commonwealth Games by listening to BBC Radio Scotland's Business Scotland programme at 6:02 on Saturday and again at 10:02 on Sunday.
The programme will also be available by free download.