Sir Tom Hunter in entrepreneurial activity call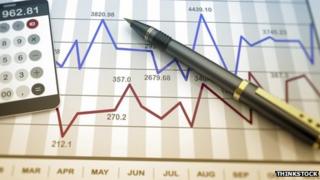 Leading businessman Sir Tom Hunter has called for Scotland to "close the gap" on the US and Canada in early-stage entrepreneurial activity.
He said activity remained at an all-time high in Scotland but added it was still ranked as "average at best".
He urged greater cooperation in encouraging entrepreneurship.
He was speaking as a survey found that Scotland's rate of total early-stage entrepreneurial activity remained flat last year.
The Global Entrepreneurship Monitor (GEM) also found activity lagged behind the UK as a whole.
However, it estimated that the number of high-aspiration entrepreneurs in Scotland doubled between 2008 and 2013.
It said more early-stage entrepreneurs expected to hire at least 10 people in their first five years.
High-aspiration business owners were also found to be more likely to export.
'Welcome development'
The GEM report for 2013 was compiled by Strathclyde University's Hunter Centre for Entrepreneurship.
It found that entrepreneurial "opportunity perception" continued to slowly recover in Scotland, although it remained much lower than in Arc of Prosperity nations such as Norway, Ireland, Iceland and Finland.
Report author Prof Jonathan Levie said: "The increase in early-stage entrepreneurs with high aspirations in Scotland is a welcome development.
"These types of innovation-driven business start-ups can have a real impact on the Scottish economy, providing employment opportunities, increasing export activity and encouraging even more entrepreneurial activity."
Sir Tom, who endowed the Hunter Centre for Entrepreneurship, said: "The good news for Scotland is undoubtedly that the GEM report points to high-aspiration early-stage entrepreneurs doubling from 2008 to 2013. And early-stage entrepreneurial activity remains at an all-time high.
"However, that high still ranks us average at best and I don't believe anyone has our aspirations set on average.
"We must close the gap on the US and Canada and to do so we need greater cooperation."
He added: "The Hunter Centre has established its own advisory board as we look to address the need to create an entrepreneurial environment in Scotland that is world-class and breaks down barriers."
Last week a new organisation was formed in Scotland in a bid to "catalyse" a new era of entrepreneurial and economic growth.
The Entrepreneurial Exchange and the Saltire Foundation announced they were coming together to create Entrepreneurial Scotland.
Those behind the move said it would help "join the dots up on the entrepreneurial landscape" in Scotland.
The Saltire Foundation was created by GlobalScot to help develop Scotland's next generation of business leaders.
The Entrepreneurial Exchange (Entex) represents businesses with more than £17bn of turnover and 150,000 employees.