Aberdeenshire seaside house prices soar, Halifax finds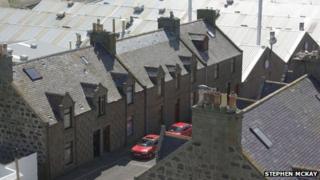 Five seaside towns in Aberdeenshire have recorded at least a doubling in house prices since 2004, a report by Halifax has found.
Fraserburgh experienced the biggest rise with a 141% increase - from an average price of jut over £53,600 in 2004 to more than £129,000 in 2014.
Cove Bay, Peterhead, Inverbervie and Stonehaven saw the next biggest gains.
In the UK as a whole, house prices in seaside towns have risen by about £500 a month over the last decade.
But Halifax found that coastal living was still significantly cheaper than property prices across Britain generally.
Newbiggin-by-the-Sea in Northumberland was found to be the least expensive seaside town out of the 196 looked at across Britain, with an average house price of £83,760.
'Unique lifestyle'
Salcombe in Devon was found to be the most expensive coastal town, with average house prices at £615,344.
Craig McKinlay, mortgage director at Halifax, said: "Seaside towns provide a unique lifestyle opportunity and remain popular places for people to live, while also attracting those looking for second homes or holiday properties which can place additional upward pressure on house prices.
"For once, oil and water have mixed - with Aberdeenshire at the heart of Scotland's vigorous energy industry, it's little wonder that seaside houses have increased so substantially."
The study used figures from the Land Registry and the Registrar of Scotland.
UK seaside towns with biggest house price increases since 2004
Town
Current price
Percentage increase since 2004
1. Fraserburgh Scotland
£129,235
141%
2. Cove Bay, Scotland
£180,499
119%
3. Peterhead, Scotland
£130,234
118%
4. Inverbervie, Scotland
£215,593
114%
5. Stonehaven, Scotland
£228,037
101%
6. Aldeburgh, East Anglia
£446,576
95%
7. Montrose, Scotland
£118,441
94%
8. Prestonpans, Scotland
£168,772
93%
9. Wadebridge, South West
£371,670
91%
10. Workington, North
£131,557
91%