More construction apprentices expected, survey finds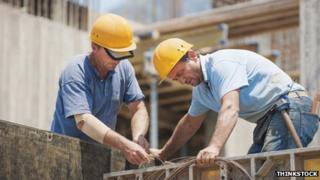 Nearly seven out of 10 construction firms are planning to take on apprentices as industry confidence continues to rise, a survey has found.
The latest Scottish Construction Monitor found 69% of firms surveyed expected to recruit apprentices in the next 12 months.
This compared with 60% that have taken on apprentices over the past year.
But respondents expressed concerns about a lack of suitable candidates for such posts.
The latest monitor of Scottish Building Federation (SBF) members found an increase in confidence in the sector for the fourth quarter in a row.
A total of 58 firms were surveyed in the second quarter of this year.
Three out of four firms believed there was a need for more apprentices to help the industry meet its needs, both now and in the future.
But SBF said that a "lack of suitable candidates was the most commonly-cited barrier to apprentice recruitment".
'Action needed'
SBF managing director Vaughan Hart said: "It's great to see industry confidence continuing to rise and, with that, an increasing number of companies that are looking to take on apprentices over the coming year.
"At the same time, an overwhelming majority of employers are concerned that we aren't taking on enough apprentices to meet current demands or future expectations."
He added: "We need to see action at secondary and even primary school level to encourage more young people to think seriously about a career in construction and to make that a truly aspirational option for them.
"We need to get the message across that there are exciting and rewarding long-term career opportunities in the construction industry and an apprenticeship is one of the best ways of pursuing that goal."