FirstGroup says no dividend payments for second year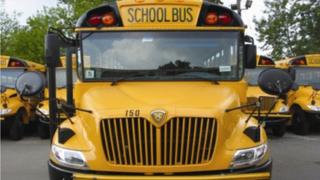 Aberdeen-based transport giant FirstGroup has announced that it will not pay a dividend to shareholders for the second year running.
The company said it needed more time to revive some of its bus operations.
The group said its UK bus business and its North American student transport arm First Student were performing well short of their potential.
Better trading in its UK rail division helped group profits for the year to 31 March rise 23% to £111.9m.
But ongoing turnaround costs and the need to reduce its debt burden mean the company will not pay a dividend.
The payout was scrapped last year after FirstGroup's turnaround plans were affected by mistakes in the bidding process surrounding the West Coast mainline franchise in 2012.
FirstGroup said at the time that it might restore the dividend this year.
'Much to do'
But on Wednesday, new chairman John McFarlane asked for shareholder patience while the group worked to revive UK Bus and First Student.
He said: "Although both divisions have faced challenging economic conditions in their respective markets, we cannot escape that we should have managed them better.
"Progress has been made in addressing the performance of these two divisions, with headway being made in UK bus in particular, but there remains much to do still."
Profits in the UK division, which has a fleet of 7,400 buses carrying around 2.3 million passengers every day, fell to £44.4m from £50.8m.
Mr McFarlane added: "UK Bus, while still working through its transformation programme, is beginning to show that it is on the right track.
"First Student's slower progress however, which was heavily affected by the unusual winter weather, was disappointing."
In UK Rail, which includes the ScotRail franchise, passenger growth was 5.9% up on a like-for-like basis, while profits rose to £55.2m from £19.3m a year earlier.