Scottish Salmon Company sees revenues leap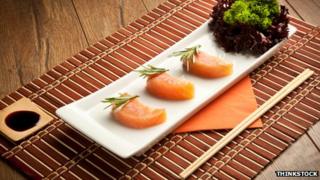 A strong export performance has helped the Scottish Salmon Company (SSC) post record first-quarter sales.
The Edinburgh-based salmon producer said revenues climbed by 48% on the same period last year, to stand at £27.7m.
Earnings before interest and tax also rose sharply, from £1.8m in the first quarter of 2013 to £4.1m this year.
Exports accounted for 48% of total sales, compared with just 35% a year ago.
The company said it had seen increased demand for its products in Europe, the US and the Far East.
It also benefited from a new two-year contract with a top London sushi chain.
SSC produces about 25,000 tonnes of salmon annually and employs more than 400 staff.
It operates 60 sites, including marine farms, freshwater hatcheries, harvesting and processing facilities in the Highlands and Islands and Western Isles and in Argyll & Bute.
Managing director Craig Anderson said: "SSC is a re-energised company, open for business, establishing new markets and moving forward with quality fish, at the right size and delivered on time."