Jobs under threat at Lanarkshire sausage firm Devro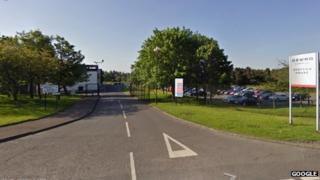 About 130 jobs are under threat at sausage skin-maker Devro's plants in Lanarkshire.
Devro has told employees at its Moodiesburn and Bellshill factories that it will enter a 45-day consultation period over redundancies.
The plants currently employ about 520 people between them,.
Devro said the redundancy proposals were part of a long-term plan to modernise and streamline the company's manufacturing base.
It wants to concentrate most of its production on the company's "newest and most cost-effective technology with the use of older, less efficient technology being discontinued".
Last month, the Moodiesburn-based firm warned of falling profits.
This year sales of collagen sausage casings have risen in Germany, Japan, China and the US but other markets have weakened.
The firm has blamed currency fluctuations, European retail markets and the Russian ban on pork imports from the EU.
'Careful consideration'
Devro chief executive Peter Page said: "Today's announcement follows several months of careful consideration and detailed analysis of our manufacturing facilities around the world.
"We have looked at all options. Many factors have influenced our thinking, most importantly trends in consumer demand, future growth prospects and how we can best take advantage of new opportunities in emerging markets.
"These are very difficult proposals to make but they are the right ones for the future of Devro.
"By taking this action now, we can maintain a competitive advantage and plan for a strong business based in Scotland, having invested over £30m here since 2008."
He added: "I realise the impact the changes would have on employees, their families and the community. They are all valued colleagues and their commitment makes Devro a very special place to work.
"We will ensure that their needs and concerns are listened to carefully during the consultation period and beyond."
The company said it would work with the Scottish government and Scottish Enterprise throughout the consultation period.
'Devastating blow'
The Unite union described the jobs announcement as a "devastating blow".
Unite industrial officer Tam Connarty said: "These are dark times for manufacturing jobs in Scotland and our crucial food manufacturing sector is particularly bearing the brunt of this ongoing decline.
"We're constantly being told that an economic recovery is under way but I can tell you it's not being felt by working people and their families in towns and communities across the likes of Lanarkshire.
"Unite will do everything we can to offset as many of these redundancies as we can but the fact is we are swimming against the tide on our own. "
A Scottish government spokesman said: "This will be an anxious time for employees and their families.
"In the event of any job losses, our initiative for responding to redundancy situations, Partnership Action for Continuing Employment (PACE) will provide support to affected employees.
"Through Scottish Enterprise we are working closely with the company during this time."