Drinks firm C&C Group reports big increase in revenues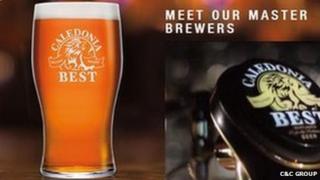 Irish drinks firm C&C Group has reported a big increase in revenues following a "particularly strong performance" in Scotland and Ireland.
The group, whose brands include Tennent's lager and Magners cider, said revenues climbed by 30% to 620m euros (£504m), while operating profit was also up.
Highlights included strong sales of Tennent's Caledonia Best draught ale.
Its Belgian lager Heverlee also sold well in Scotland and Northern Ireland.
C&C's cider brand Magners saw an overall volume decline of 10%.
However, in Scotland it grew 6.5% year-on-year and was "picking up market share".
Tennent's operating profits increased by 18.9% to 34.6m euros.
In March C&C Group took full ownership of Scotland's largest independent wines and spirits wholesaler Wallaces Express, having bought half of the company in 2013.
It said the move was in line with its plans to build a "multi-beverage platform" in the Scottish drinks market.
Announcing its full-year results, C&C said: "We are pleased with the progress of Caledonia Best which has captured 9.6% of the on-trade draught ale category in Scotland since its launch.
"Equally, Heverlee, our authentic hand-crafted premium Belgian lager, is selling well in Scotland and Northern Ireland.
"Looking to the longer term, the acquisition of Wallaces Express reinforces our customer-centric, multi-beverage model and the investment in a craft brewery in Glasgow via a joint venture with Williams Bros will facilitate participation in the craft arena."