Job market continues to improve says Bank of Scotland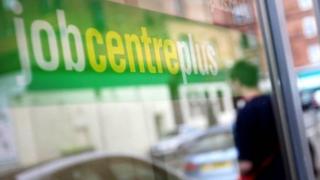 Demand for staff remained strong last month but there was an acute lack of available candidates to fill the posts, according to a job market survey.
The Bank of Scotland found availability of candidates for permanent roles fell sharply in April, with the rate of decline only slightly slower than March's survey record.
Candidate numbers for temporary posts also decreased "markedly".
At the same time, April saw permanent starting salaries rise "sharply".
Temporary hourly pay rates also went up.
The bank's labour market barometer measures areas such as levels of staff demand, employment and wages in permanent and temporary jobs to create a snapshot of job market conditions.
At 62.5 last month, it was indicative of a "substantial improvement in the health of Scotland's labour market".
But it was down slightly from the 63.9 recorded in March and was lower than its UK equivalent, of 64.3, for the first time in 14 months.
The figure is measured against a baseline of 50. Anything above 50 represents an improvement in market conditions.
Permanent staff
Overall, April's rise in permanent staff appointments was the slowest since May last year, the barometer found, with the rate of growth having eased for the second successive month.
Recruitment consultancies recorded another strong increase in the demand for permanent staff, albeit one that was the weakest so far this year.
Growth in demand for temporary staff was unchanged from the marked pace recorded in the month before, the study found.
Regional results show that permanent appointments rose the fastest in Glasgow, with only Aberdeen recording a reduction in placements.
Glasgow also led broad-based increases in both permanent starting salaries and hourly rates of pay for temporary staff.
Donald MacRae, chief economist at Bank of Scotland, said: "The Scottish labour market continued to improve in April.
"Demand for staff was strong but accompanied by a lack of available candidates. As a result, the number of people appointed to permanent jobs rose but at a slower rate than in recent months."