Edinburgh testing firm Exova reports revenue growth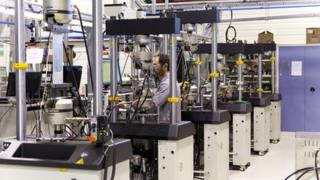 Edinburgh-based testing services firm Exova has reported strong revenue growth, following several acquisitions.
The company, which floated last month, said revenue was up 6.3% on a constant currency basis to £91.5m for the first four months of the year.
Most of the growth was attributed to acquisitions, which included a calibration business bought from Raufoss Offshore in May.
Exova said it remained confident of its prospects for the rest of the year.
Net proceeds from an Initial Public Offering (IPO) held in April are being used to repay debt.
The company runs 117 laboratories in 22 countries, providing testing services for a range of materials, components, products and systems for sectors such as pharmaceuticals, aerospace, engineering and construction.
Exova chief executive Ian El-Mokadem said: "Following on from our successful IPO, we are focusing on our strategy of providing technically demanding services and are positioned well for growth.
"We are continuing to invest in our laboratories and to extend the range and global reach of our services through selective acquisitions.
"Having now completed five acquisitions or outsourcing agreements since September 2013, we remain positive about our ability to complement the organic development of the group by integrating new operations into our network."