Roads firm Amey commits to 120 new apprentices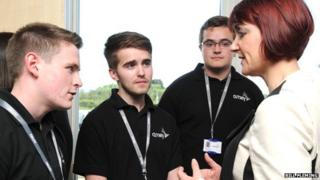 Road maintenance firm Amey has committed to taking on at least 120 new apprentices in Scotland over the next two years.
The announcement came at the start of Scottish Apprenticeship Week 2014.
The week, organised by Skills Development Scotland, will see dozens of events from Shetland to the Borders to celebrate apprenticeships.
It comes after the Scottish government announced plans to expand Scotland's modern apprenticeship programme.
It is raising the annual target for new modern apprenticeships (MAs) from its current 25,000 a year to 30,000 by 2020.
'Key to growth'
Training, Youth and Women's Employment Secretary Angela Constance welcomed Amey's announcement.
She said: "I am very pleased indeed to see that Amey are committed to helping Scotland's enthusiastic young workforce maximise their potential by taking on such a large number of new modern apprentices (MAs) over the next few years.
"Companies like Amey are vital to Scotland's infrastructure and economy and these new MAs will find themselves right at the heart of a number of projects that are key to Scotland's future growth.
"I am confident that this week will see a number of employers exploring the value that MAs could bring to their company and that we will raise awareness among young people that an MA is a well-recognised qualification that will equip them with the skills they need to succeed in the workplace."
Valerie Hughes-D'Aeth, Amey Group HR director, added: "In order to grow our highly-skilled workforce, it is important that we continue to identify and bring new talent into the industry.
"Offering apprenticeships is a great way to do this, as it helps to build transferable skills which are essential for career progression.
"As a business we are committed to developing our employees and their skills, which helps in delivering a high-quality service for our clients."
Skills Development Scotland chief executive Damien Yeates said: "Scottish Apprenticeship Week highlights the commitment of businesses, such as Amey, that invest in the skills of their workforce.
"The week also shows the successes of apprentices who have chosen to develop their careers by learning while working, to gain nationally recognised qualifications.
"Modern apprenticeships are good for business, good for individuals and good for the Scottish economy.
"It's never been more important to invest in skills for the future through work-based learning."